The ceremony of the 2018 Outstanding Science and Technology Achievement Award of the Chinese Academy of Sciences (CAS) was held on CAS Annual Conference 2019 in Beijing on January 17, 2019. A total of nine research groups and individuals won this year's award and were presented with medals and certificates by Bai Chunli, CAS President. The research group for theoretical and material prediction of topological semimetals, led by IOP researcher Fang Zhong, is among the winners.
The Award is granted to an individual or group from CAS institutions with major achievements in science and technology innovations. The winning groups include outstanding and major contributors. The Award is granted once a year with no more than 10 awardees each year. The Award was established in 2002, and was first awarded in 2003. The year 2018 marks the eleventh round of the Award.
IOP research groups has won this Award for several times, respectively for the research of controlled growth and quantum manipulation of film/nanostructure in 2005, several frontier issues in strong field physics in 2007, topological insulators in 2011, and functional nanostructures and devices in 2013.
Introduction of the winning research group.
Affiliation: IOP, CAS.
Main contributions: Based on the development of characteristic methods for calculating electronic structures, this research group made ground-breaking contributions to the theoretical and material predication of topological semimetals. They extended the classification of topological electronic states from insulators to metals, predicted through calculation and then discovered, for the first time, topological Dirac semimetals, Weyl semimetals and triply degenerate semimetals, through collaboration with experimentalists. Their achievements have been selected many times as major progresses by international physical societies and have pushed China's position in this field to international frontier.
Outstanding contributors and their main contributions:
Fang Zhong, IOP, CAS
Main contributions: He proposed the topological semimetal material theory, developed the method for calculating topological invariant, and supervised the prediction of related materials by calculation.
Dai Xi, Hong Kong University of Science and Technology
Main contributions: He developed the method for calculating topological invariants, built and analyzed the low-energy effective models of topological semimetals, and supervised the materials calculations.
Weng Hongming, IOP, CAS
Main contributions: He predicted several topological semimetal materials through calculation, and confirmed their topological properties through topological invariants.
Major contributors and their affiliations:
Fang Chen, IOP, CAS
Xu Gang, Huazhong University of Science and Technology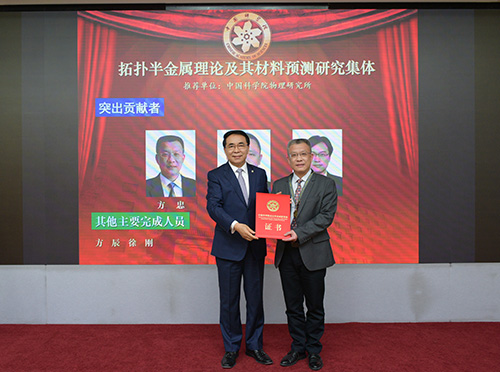 Prof. Fang Zhong is receiving the Award on behalf of the research group.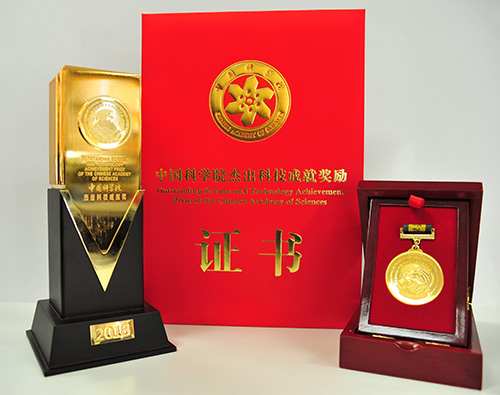 The certificate, trophy and medal