The International Workshop on Surfaces and Interfaces of Quantum Materials, organized by Group SF06 of the Laboratory for Surface Physics and Group L03 of the Laboratory of Optical Physics of the Institute of Physics (IOP), was held at IOP from June 3 to 4. The workshop attracted more than 80 experts, scholars and postgraduates from famous research institutions and universities at home and abroad. It is the eighth in a series of international workshops on low-dimensional structures of complex materials sponsored by IOP, with an aim to promote international academic exchanges in this field and provide a cooperation platform for researchers at home and abroad.
Twenty-one domestic and foreign experts in low-dimensional quantum materials were invited to give keynote speeches and introduce the latest research progress in related fields. The main topics of this workshop included: exploration of new states of matter at surfaces and interfaces of quantum materials, atomic-scale structural characterization and advanced spectroscopic analysis of complex interfaces, and research and development of new oxide interface devices. Attendees conducted in-depth exchanges and heated discussions, and Professor Sokrates T. Pantelides from Vanderbilt University in the USA summarized the outstanding reports and highlights of the workshop. It achieved a full success.
Part of the funds for the workshop were from the Bureau of International Cooperation of the Chinese Academy of Sciences.

Professor Ward Plummer is making a report.


Professor Sokrates T. Pantelides is making a report.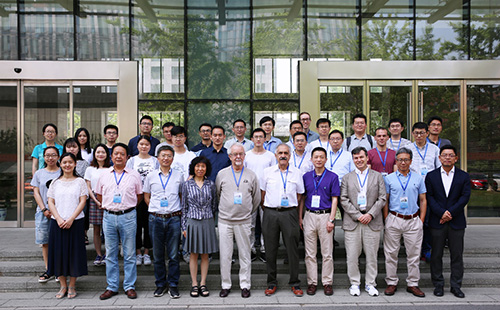 Group photo.