The 9th Joint ICQ (ICQS-ICQD-ICQM) Annual Workshop, sponsored by the Institute of Physics (IOP) of the Chinese Academy of Sciences (CAS), was successfully held at IOP from June 18 to 20. A total of 27 domestic and foreign experts from the International Center for Quantum Structures (ICQS), the International Center for Quantum Design of Functional Materials (ICQD) and the International Center for Quantum Materials (ICQM) were invited to deliver keynote speeches at the Workshop. They introduced the latest research progress on topological physics of quantum materials. The Workshop attracted nearly 100 experts, scholars, young teachers and students from IOP, CAS, the University of Science and Technology of China, Peking University, Fudan University, the University of Texas at Austin, Beijing Institute of Technology, Beijing Normal University and other universities and research institutions.
Li Ming, deputy secretary of the Party Committee and secretary of the Commission for Discipline Inspection of IOP, made an opening speech, reviewing the splendid history of the centers and extending a warm welcome to the attendees. In October 2000, ICQS of CAS was established at IOP. ICQD and ICQM were established respectively in 2008 and 2010 at the University of Science and Technology of China and Peking University. Since 2011, the Joint ICQ Annual Workshops have been successfully held eight times, with an aim to provide a platform for members of the centers and invited scholars to conduct academic exchanges, joint discussions and collaborative research. The main topics of this year's workshop included: new topological states and their properties, precision observation of new two-dimensional materials, quantum computation exploration of topological superconducting low-dimensional structures, quantum control of electron spins, etc. In-depth exchanges and heated discussions were held among the attendees, and the workshop achieved a full success.
In the end, Professor Zhang Zhenyu, co-director of ICQD, summarized the outstanding reports and highlights of this workshop, and introduced the development history of the three centers and the original intention of the workshop. Wang Enge, CAS academician, made a concluding remark. He spoke highly of the development of the international quantum centers in recent years, and welcomed experts and scholars to the next annual workshop held by Peking University's ICQM.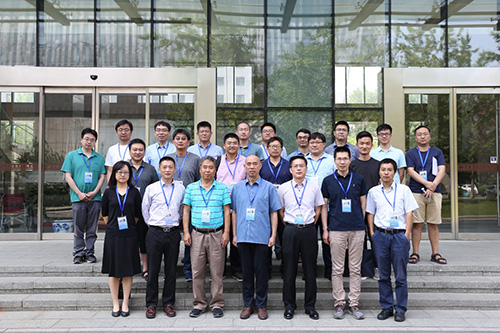 Group photo.



Academician Wang Enge and Professor Zhang Zhenyu are delivering speeches.


Reports and discussions at the workshop