The 29th award ceremony of the Peking Mao Yisheng Science and Technology Education Foundation (hereinafter referred to as Foundation) was held in Beijing Railway Hotel on October 24. In total, 400 people attended the meeting, including Academician Sun Yongfu, former Executive Vice Minister of the Ministry of Railways and Chairman of the Foundation, and Academician He Huawu, Vice President of the Chinese Academy of Engineering, Vice Chairman of the China Association for Science and Technology (CAST) and Executive Vice Chairman of the Foundation. Prof. Wang Gang from Laboratory for Advanced Materials & Electron Microscopy, Institute of Physics (IOP), Chinese Academy of Sciences (CAS), won the 2019 Mao Yisheng Science and Technology Award for Beijing Youth.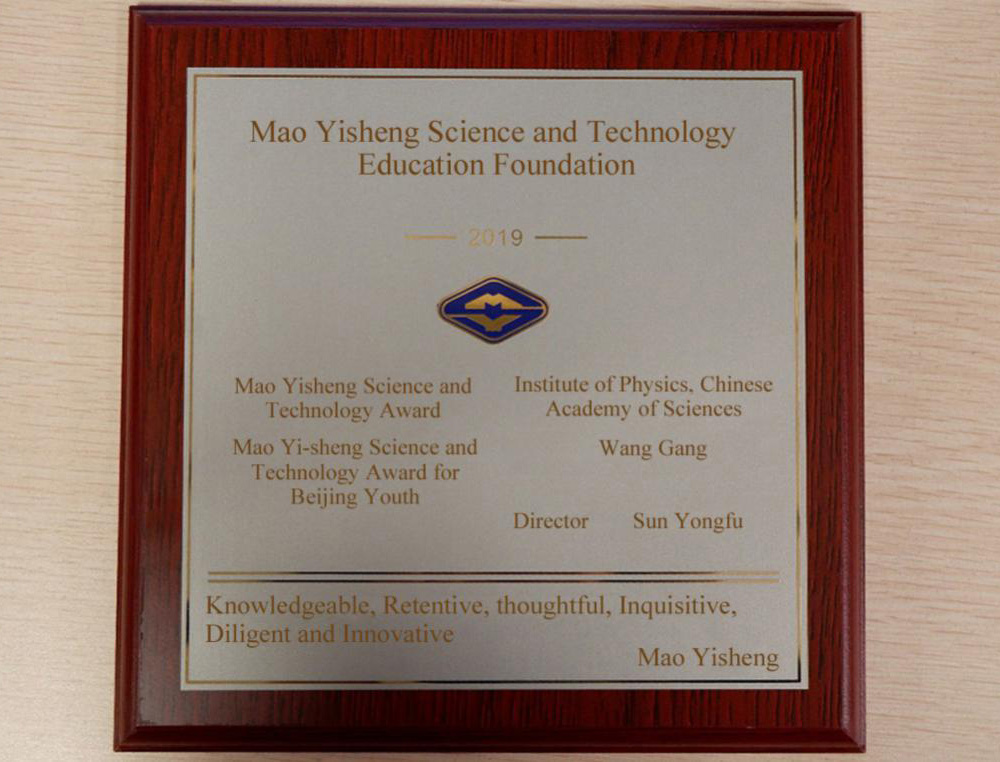 This Award is co-founded and organized by the Peking Mao Yisheng Science and Technology Education Foundation and the Beijing Association for Science and Technology (BAST). It is presented once a year to 15 award winners. It was established to commemorate Dr. Mao Yisheng, the founder of China's bridge engineering, outstanding scientist, educator and social activist, and to encourage young scientists and technicians to forge ahead and thrive in future. According to the award requirements, the winner must complete his/ her main work in Beijing, making outstanding contributions to the economic and social development of the capital, with the age under 40 for men and 45 for women.
Prof. Wang Gang obtained his PhD in IOP, then worked in Sweden and the US successively as a postdoctoral fellow from August 2007 to December 2008, and joined IOP in January 2009. He is now a full professor and doctoral supervisor at IOP. Prof. Wang has been dedicated to the research into crystal growth and physical properties of inorganic electromagnetic functional materials, and made many achievements in areas like wide gap silicon carbide, high temperature superconductors and topological semi-metal. He published 74 academic papers in Phys. Rev. Lett., J. Am. Chem. Soc. and Adv. Mater. He has won the CAS Outstanding Scientific Achievement Award (Collective), CAS Lu Jiaxi Young Talent Award, Youth Science and Technology Award of the Chinese Ceramic Society and other awards. In 2013, he obtained the support from the National Science Fund for Excellent Young Scholars.