The 2021 Spring NJU-IOP Symposium for Young Scientists was held at Nanjing University (NJU) on May 8-10, 2021. The Symposium was organized by the Lab of Soft Matter Physics of the Institute of Physics (IOP), Chinese Academy of Sciences (CAS), and supported by the School of Physics and Kuang Yaming Honors School of NJU.
Chaired by Hu Jiangping, Deputy Director of IOP, the Symposium attracted more than 130 young scientists from the two institutions. Zhang Junfeng, Vice President of NJU and Wang Bogen, Dean of School of Physics of NJU delivered welcoming speeches. Zhang Junfeng said that as the major forces in basic research, universities and research institutes should strengthen basic research and interdisciplinary research, make key technology breakthroughs and solve major problems, and shoulder the mission of building a powerful nation of science and technology and realizing the "two centenary goals". He encouraged the young scientists to enhance confidence, set high aspirations, show great virtue, and shoulder responsibilities. Later, Li Ming, Party Secretary of IOP gave an opening speech, reviewing the close cooperation between NJU and IOP, and the outstanding achievements made by the two institutions, and proposed that NJU and IOP continue to strengthen exchanges and make more brilliant achievements in the future.
Hu Jiangping presented the New Star Award to Yu Guoqiang, in recognition of his work in the research of spin-orbit torque and magnetic skyrmion in room-temperature magnetic film heterostructures. Hu Jiangping proposed that the "Symposium for Young Scientists" is the most important platform for academic exchange among young scientists in IOP, and the "New Star Award" is an important recognition for their work. Yu Guoqiang delivered a report entitled "Recent Progress on Spin-orbit Torque and Magnetic Skyrmion," focusing on his work in the research of spintronic materials and devices.
Invited by the editorial department of Chinese Physics Letters (CPL), Sun Jian of NJU made a report entitled "T-graphene and Other New Materials Predicted under High Pressure." He also introduced the rapid development of Express Letters in CPL in recent years. CPL Invited Talk, which began in the fall of 2018, has since then been featured in IOP's Symposium for Young Scientists, aiming to encourage Chinese physicists, especially young physicists, to quickly publish their important original papers in CPL's Express Letters.
On the Symposium, 36 young scientists from IOP and NJU reported their latest research achievements. The contents of the report were novel and rich, involving basic science, related interdisciplinary fields and frontiers of applied technology of condensed matter physics. The participants also had heated discussions.
After the reports, six scientists were awarded the Best Report Award, including Jiang Daohua, Tian Xuezeng, Liu Xiaoran, Yang Kai of IOP, and Li Shaochun and Yang Huan of NJU. Cheng Jinguang, Deputy Director of IOP and Wan Xiangang, Deputy Dean of the School of Physics of NJU, presented certificates to the six winners.
In addition to the report and free discussion, the participants also visited the History Museum of NJU and some laboratories of the School of Physics to learn more about the research achievements and development. They also had in-depth exchanges and discussions with teachers and students of various laboratories on experimental instruments, technology, and other details, so as to facilitate cooperation between the two sides.
The Symposium for Young Scientists provided an excellent academic exchange platform for young researchers from IOP and the School of Physics of NJU, and opportunities and assistance for further in-depth cooperation between the two sides.
Since the spring of 2005, the Symposium for Young Scientists has developed into one of the most influential branded events of IOP. Generally held twice a year (in spring and autumn), it is organized by IOP's Young Talent Working Group and undertaken by IOP's labs in turns. At the same time, excellent young scientists from universities and research institutes around the symposium venue are invited to participate, aiming to show the latest scientific research progress and build a platform for cooperation and exchanges.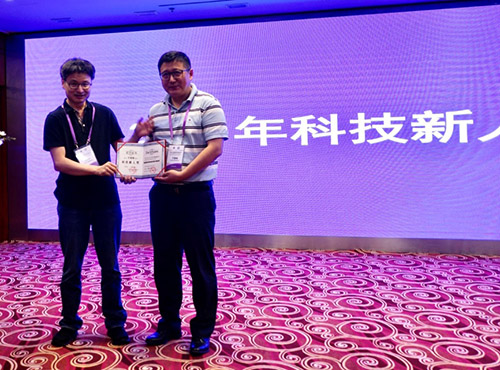 Hu Jiangping, Deputy Director of IOP, presents the New Star Award to Yu Guoqiang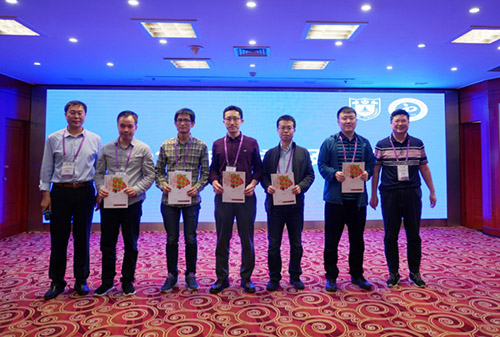 Cheng Jinguang, Deputy Director of IOP, and Wan Xiangang, Deputy Dean of the School of Physics of NJU present the Best Report Award to the winners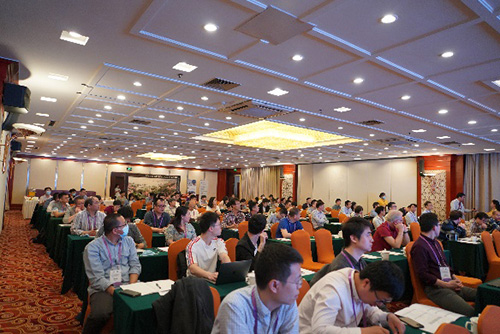 Scene of the symposium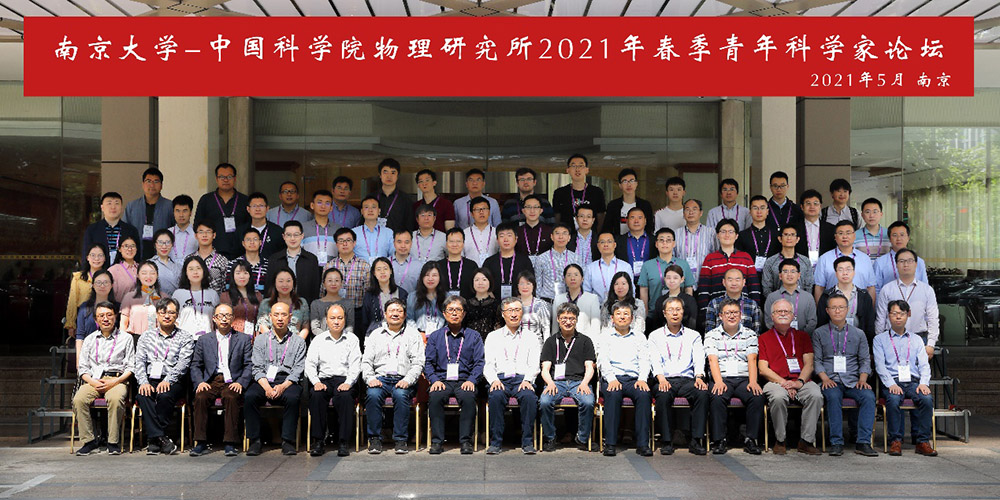 A group photo of the symposium